Doodles 1
As you know from previous blog posts I'm planning on doing some art journaling during the winter months, with no idea where this will lead. Yesterday I decided to start with a doodling project. There are some great ideas for this on a new social website called Pinterest. I brought out my Inktense pencils.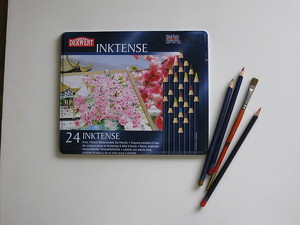 A friend of mine introduced these pencils to me a few years ago. I like them better than any colored pencils I have but I don't use them in my daily work. I chose 3 colors and started drawing shapes.
You can see the color is very weak. Next, I brushed on a small amount of water. WOW. You can see how the color pops.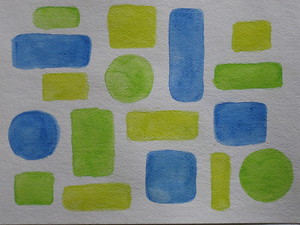 Next I started doodling with a Sharpie ultra fine point pen. This is great fun. Do whatever you want.
So there you are, 1 piece of watercolor paper, 3 pencils, a small container of water and a brush, and a Sharpie are all you need to make
some art. Great idea if you're confined for some reason. You can do this from your armchair. Something like this could make a good journal cover.
Comment on or Share this Article
---
---
---
---
---