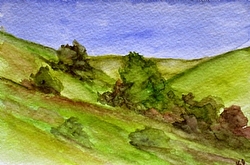 Santa Margarita Hills, 4x6, watercolor
When my grandchildren were younger they used to play in a beautiful playground in the Santa Margarita Hills in Terra Linda, California. On my recent trip to visit them I remembered how spectacular the landscape was in that park, so my daughter dropped me off to paint while she was at a meeting. I love the hills in Marin county and the Santa Margarita Hills are classic. But I was surprised to see how very green they were after the end of the drought. They had always been pretty brown when I had seen them on previous trips. These hills sure have their own special look. They fascinate me.
On another day I painted this larger image of Mt Tam. This one from the park in Larkspur.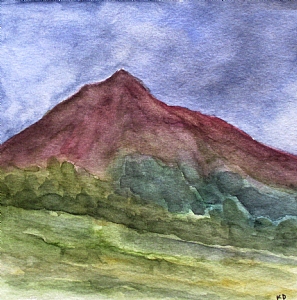 Mt Tam #4, 6x6, watercolor. While I was painting "Mt Tam #4" a ferocious wind came up along with a very black cloud. If I had been in New England I would have run for cover. I watched the other people in the park and they didn't seem alarmed so I continued to paint. My daughter said they never have quick rainstorms in that area like we do. The cloud passed and I left the blue sky in the painting which was how it was when I started.
You can see these paintings and my complete portfolio by clicking on the portfolio link over on the left of this page.
Comment on or Share this Article
---
---
---